Categories
Recent Posts
Popular
Most Popular
Justin and Katie Rose Launch The Rose Ladies Open on LET Access Series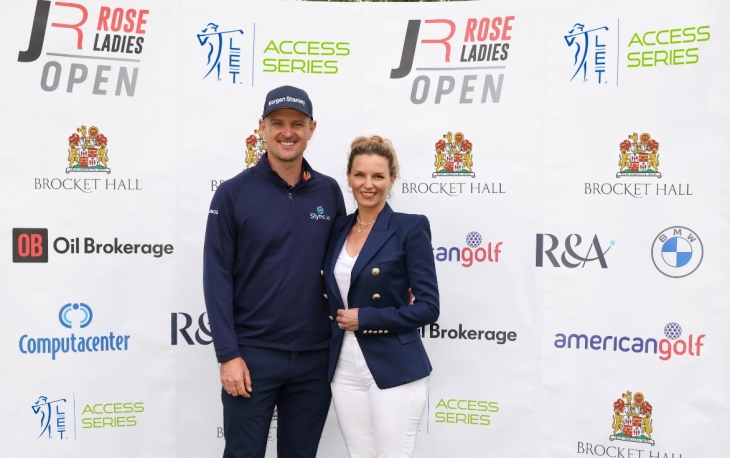 Justin Rose and wife Katie have announced the launch of the Rose Ladies Open on the Ladies European Tour's Access Series which will take place in September.
The events will take place at Brocket Hall in Hertfordshire from 23-25 September and offer a prize fund of €65,000 – the largest prize fund on the Access Series this season outside of the Grand Final.
After the success of the Rose Ladies Series the former world No 1 and wife Katie are taking the next step in their commitment to women's golf in the UK
"We are really excited to announce the Rose Ladies Open," said said Kate & Justin Rose. "Building on the success of the Rose Ladies Series, we wanted to continue growing and developing the ladies' professional game by creating this new tournament, as part of the LET Access Series.
"Our motivation remains the same: we want to give the female professionals more opportunities to play competitively; provide them the chance to compete for larger prize funds; provide opportunities to be seen and receive the exposure they deserve, so that we can continue to work towards change and the drive for equality and help provide the pathway to the Ladies European Tour."
The Rose Ladies Series was created in 2020 during the Covid-19 pandemic to provide playing opportunities during golf's coronavirus lockdown.
Paul McDonnell, Director, Excel Sports Management Europe, said: "We at Excel Sports Management are delighted to help Kate and Justin produce the Rose Ladies Open on the LET Access Series. Alongside sponsors such as American Golf and Computacenter who have been partners since 2020, we have also welcomed further support from Oil Brokerage, The R&A and BMW, and are looking forward to hosting this new event at Brocket Hall, an amazing venue which shares our vision of supporting the ladies' professional game."
Alexandra Armas, CEO of the LET, said: "We are excited to announce that the Rose Ladies Open will be part of the 2022 LET Access Series schedule. Kate and Justin's continued commitment and support of women's golf over recent years through the Rose Ladies Series has been fantastic. LETAS provides an excellent pathway to the LET and having the Rose Ladies Open in this year's calendar offers another playing opportunity, which helps develop the professional game and strengthens the Tour."
With the addition if The Rose Ladies Open there are now 19 events on the 2022 LETAS calendar with the total prize money for the season reaching €850,000.
Michael Longshaw, Chief Executive of IG&RM and Managing Director of Brocket Hall said: "One of the core principles of The Melbourne Club at Brocket Hall is that the Club will encourage the growth, development and participation in events across all levels of the sport of golf whilst supporting and encouraging the growth and development of new golfers.
"We are very proud to support the Rose Ladies Open and to be part of the drive to grow the game through championing new opportunities for women in golf. Being a venue partner and hosts of the first Rose Ladies Open is a great privilege. We are looking forward to welcoming some of the future stars of the game and celebrating their achievements in September."