Categories
Recent Posts
Popular
Most Popular
Driving Net Zero: Golf Architects Sign Climate Pledge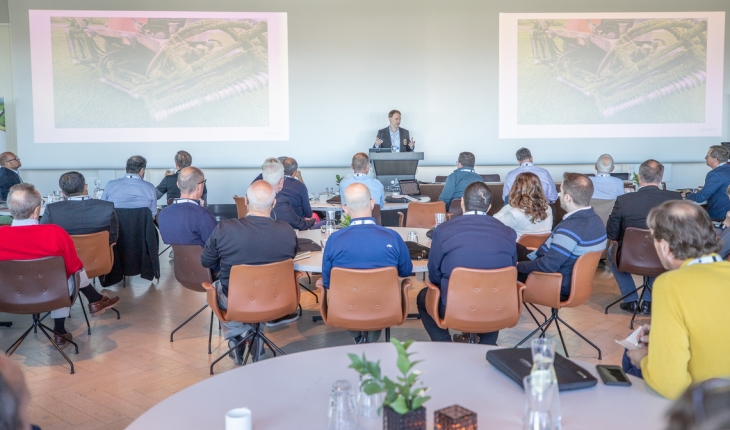 European Institute of Golf Course Architects (EIGCA) is taking the lead in putting climate change action on the world agenda for golf course design and development.
The Institute's 2022 Annual Conference was dedicated to golf and climate change, tackling the question: Is the climate emergency a golf emergency?
The programme pulled together speakers from EIGCA, GEO Foundation, The R&A, American Society of Golf Course Architects (ASGCA), Society of Australian Golf Course Architects (SAGCA), EIGCA Gold Partners Rain Bird and Toro, and EIGCA members.
Gudlaugur Thór Thórdarson, the Icelandic Minister of the Environment, Energy and Climate, gave the welcome address.
Approximately 100 delegates from 25 locations in 19 countries across four continents gathered to hear experts explore the main trends in climate change, the impacts on golf, and the practical implications for golf course design and development.
The focus was on the practicalities of the challenges for golf to be net zero, and delegates left with a greater understanding of what stepping forward as leaders in climate action entails.
The conference closed with the Presidents of EIGCA, ASGCA and SAGCA signing a pledge to strengthen their commitment towards climate action, on behalf of their respective members.
Tim Lobb, EIGCA President, said: "We chose Iceland for our conference as it is one of the most forward-thinking countries on climate change. Sustainability and stewardship of the environment are key considerations in golf course design and as an Institute we believe it is important to create a pathway for golf to achieve net zero emissions through how golf courses are designed and developed.
"We are grateful for the support of our Gold Partners – Rain Bird and Toro – for jointly funding with EIGCA the off-setting of unavoidable emissions associated with this event. We look forward to working with them, and GEO, on future initiatives as part of EIGCA's contribution to help golf achieve net zero emissions in the future."
ASGCA President Jason Straka said: "I was thrilled to attend the conference and annual meeting in Iceland which covered many topics regarding climate change and how we as professional golf course architects can help to address it. I signed the pledge on behalf of ASGCA and our members, who continue our on-going commitment towards climate action through conscientious design."
Harley Kruse, SAGCA President, said: "Climate change is evident across the golfing landscape of Australia. The Australian continent is historically one of drought, floods, storms, and bush fires, but now a place where abnormal weather is perhaps becoming normal. SAGCA is very happy to sign this pledge and commit to encouraging and supporting the Australian golf course architecture community to increase their knowledge and understanding of climate adaption in design."
In line with EIGCA's commitment to establish leadership in the golf conference sector, and show how meaningful steps can be made towards net zero emissions, efforts were made to reduce emissions wherever possible.
These included:
Conference Hotel: The Grand Hotel Reykjavík is the only hotel in Reykjavík to conform to the Nordic Eco-labelling criteria for hotels, and also has a Gold Class environmental rating from Vakinn
Ground Transportation: Coaches for transporting delegates between venues and golf courses were provided by the first bus company to carbon balance the driving of their fleet
Food: Vegetarian and vegan food options were available
Delegate Name Badges: Made from 100% recycled board and are 100% recyclable
Lanyards: Made from RPET (recycled plastic bottles) and are recyclable
Tee Amnesty: For every one plastic tee surrendered, four sustainable bamboo tees were given in exchange to participants in the EIGCA President's Cup at Brautarholt and Keilir Golf Clubs. Keilir Golf Club has been GEO Certified for eight years.
Off-setting: GEO established highly credible and impactful international off-setting, covering the flights taken by the delegates, their accommodation, meals and ground transportation. The price chosen for off-setting was set at a high level (UK and EU recommended carbon price), with the cost financed by a joint sponsorship between EIGCA and Gold Partners, Rain Bird and Toro.