Women in Golf - Natasha Gobey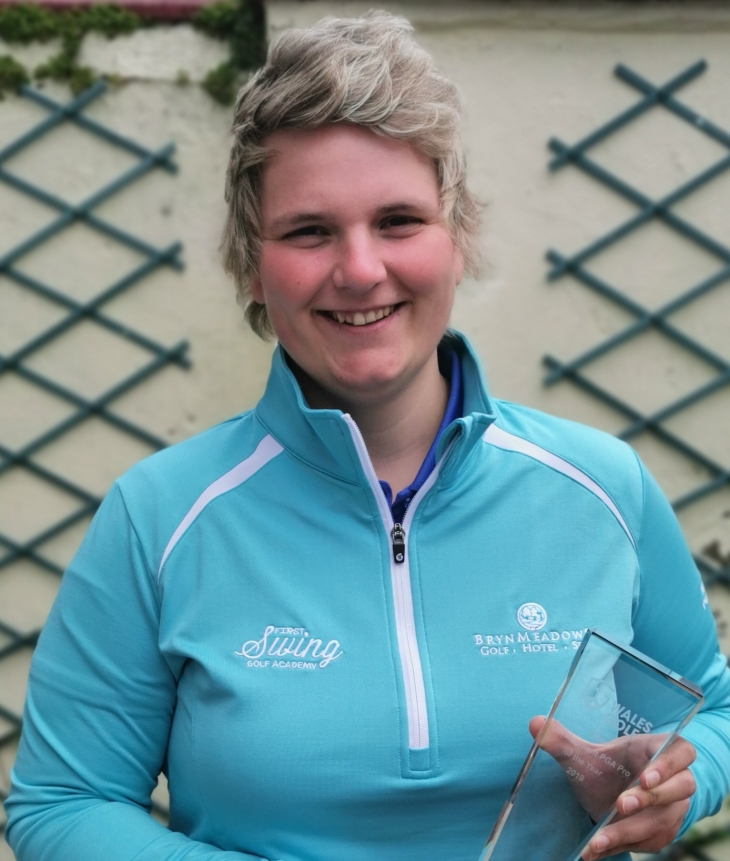 Natasha Gobey is a PGA Professional at Bryn Meadows Golf, Hotel & Spa in South Wales.
Natasha gained a Foundation degree in Golf Studies through the University of Birmingham while working as a PGA Assistant Professional Golfer. She later become a fully qualified PGA Professional at the James Andrews School of Golf at Sedlescombe Golf Club. Natasha was awarded Wales Golf PGA Pro of the Year in 2020.
We asked Natasha 5 questions regarding her role as a PGA Professional.
Question 1: How long have you been a PGA Professional?
''I started my PGA Training when I was 19 years of age. That was 11 years ago, and I became a fully qualified PGA golf coach in 2014. Therefore, I have been fully qualified for 8 years.
My first experience of golf coaching was when I was 16 where I did a lot of voluntary coaching sessions amongst local primary schools in the Rhondda Cynon Taff area.''
Question 2: What made you want to become a PGA Professional?
''I started golf at a young age and got the bug very quickly, I fell in love with the game and wanted to encourage and help as many people get involved in the sport as possible.
I was successful in obtaining a golf scholarship at the University of Toledo, Ohio. This career decision was made in order for me to obtain experience of golf in a different environment and for me to develop a greater appreciation of the qualities required to become a really successful golfer and golf coach.
I had an amazing experience and realised that as much as I loved playing, I couldn't help but get involved with the technical and strategic side of what it takes to become a good golfer and discovered that my real passion lay with teaching Golf so I came back after a year to pursue a career in golf coaching via the PGA training programme.''
Question 3: What is the best part of your job?
''The best part of being a PGA Professional is the variety in your role at the club. I am very fortunate to work with an employer and team who supports and promotes my ideas around golf coaching and works with me to achieve the programmes we offer here which is what makes it so successful.
There is nothing more rewarding than watching people from adults to juniors fall in love with the game and for some offers them a new lease of life. Golf is not just a very enjoyable sport but it also promotes the mental wellbeing of people along with health benefits making it accessible to everyone.''
Question 4: Tell us about a defining moment in your career.
''In recognition for my work from my outreach work to local primary schools and my contribution to the sport I was shortlisted for Sports Coach of the Year within Caerphilly County Borough and was awarded Wales PGA Development Coach of the Year in 2019.I also received accredited status from the PGA in 2021. This showed me that if you worked really hard then your efforts would be recognised and I was a very proud of all these achievements.
In the past year I have had two junior students qualify for the World Championships in USA of which I am extremely proud and its hugely rewarding to see the Bryn Meadows Junior team qualify for the Wales Golf Sixes final.''
Question 5: Do you have any advice for someone who wants to become a PGA Professional?
''My advice would be to set out goals and strategic plans as to where you want to be 5 years from now and what you want to achieve. Every day at work set yourself a goal no matter how big or small to achieve during that day and in particular don't leave anything that you could do today until tomorrow.
Be passionate in the role and don't be afraid to think outside the box, strive to become a better professional by taking responsibility for your personal development and encourage people from all walks of life and abilities to take up the sport and strive for improvement.''