Women in Golf - Anna Nilsson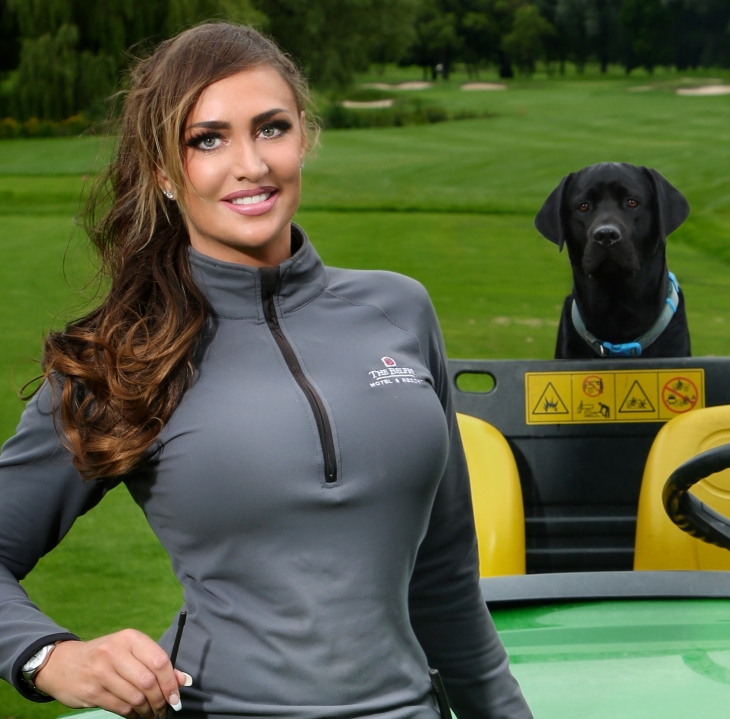 Anna Nilsson is the Deputy Head Greenkeeper of the iconic Brabazon course at The Belfry Hotel & Resort. She joined The Belfry team in 2019 after moving from Sweden. Anna is currently preparing the Brabazon course ahead of the Betfred British Masters 2022 which will take place from 5th until 8th May 2022.


We asked Anna 5 questions regarding her role as a greenkeeper.


Question 1: How long have you been greenkeeping?
''I started off working across several golf courses in Sweden, which included maintaining the courses in snowy conditions as well as fixing moose and wild boar damage on the course. I joined the greenkeeping team at The Belfry in 2019 after moving from Sweden to take on the role as Senior Greenkeeper.''
Question 2: What made you want to become a greenkeeper?
''I didn't plan on having a career in greenkeeping, I actually always going to be a solicitor and I studied that at university for a while. When I was younger, I had golf lessons which first sparked my interest in golf. Golf has long been one of my passions, and although I may not have the skills to become a professional golfer, I still wanted a career in the golf industry. Working in greenkeeping felt the natural way to work in the golf industry and it meant I could fulfil my passion of being on a golf course every single day.
I was at Farrier School at the Swedish University of Agricultural Studies before I went into golf course maintenance. I've been able to transfer some of those equine studies into greenkeeping, for example we had a lot of studies on the ground reaction force on horses and their limbs on the different surfaces and sands and what we would then use, and I was able to transfer those to the bunkers on the course.''
Question 3: What is the best part of your job?
''All of it! I have so much fun working with the team – it doesn't feel like work.
I've worked on a number of courses and nowhere compares to The Belfry, we ensure that our guests can experience a Ryder Cup quality course daily as the Brabazon is always up to tournament standard. This means that the job is high tempo, but that's what I love about it.
Having good management is so important, and I couldn't ask for better bosses. I work under Angus Macleod, Director of Courses and Estates, and Head Greenkeeper, Jamie Wade. They have taught me that having good management and support is so important. When you have that behind you, the world is your oyster.''
Question 4: Tell us about a defining moment in your career.
''Being promoted to Deputy Head Greenkeeper of the legendry Brabazon course at The Belfry. I am proud to have been given this opportunity and to be able to work on such an iconic course which has such a fascinating history, and also work alongside such a fantastic, knowledgeable, and inspiring team every day at The Belfry. Every day is a learning day and I feel very fortunate to be here, I wouldn't be where I am today if it weren't for them. It's a really supportive community at The Belfry, but also within the golf and greenkeeping industry in general.
Another defining moment has to be working on The Belfry's courses to prepare for a number of prestigious tournaments, it has been incredible. Last year The Belfry hosted the Betfred British Masters, British Challenge, and The FootGolf UK Open 2021. This year Danny Willett will again host the Betfred British Masters on the Brabazon which is really exciting. ''
Question 5: Do you have any advice for someone trying to become a greenkeeper?
''I've found that everyone in the industry so supportive and are willing to help out and provide advice so, if you are looking to work within this industry, I suggest you go for it. I absolutely love my job as a greenkeeper.
Life is too short to stay in one place if your heart isn't in it. So, I know it sounds cliché but if you aren't happy, don't stay, move, get out and live. My heart is a happy one.
I also want to continue to encourage more women into greenkeeping. I think if more women actually knew how supportive this community is, we would have a lot more women coming into the industry.
I have a lot of women messaging me on social media who are interested in a career in the industry, who ask me for advice, and I also hear from those who tell me that I've inspired them to get into the industry. I'm so happy that my story is making a difference to women who want to get into the industry all over the world.''