Scottish Golf Launches PING Scottish Open Series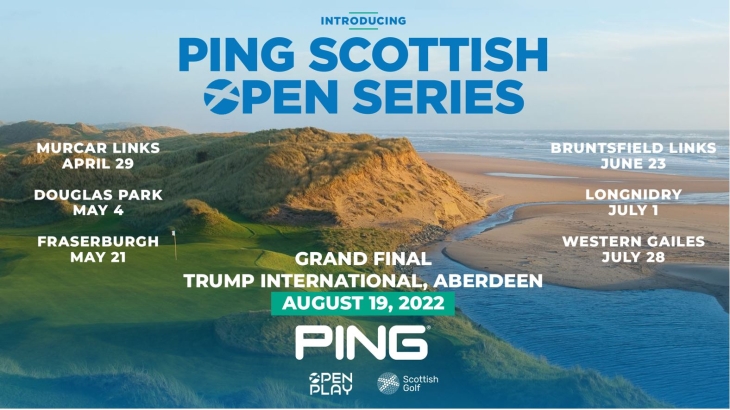 Scottish Golf has launched the PING Scottish Open Series. The series will see golfers take on six qualifying rounds before the Grand Final taking place at Trump International, Aberdeen.
All finalists will be treated to a night's accommodation and have the chance to win fantastic prizes courtesy of title sponsors PING with the top players winning the chance of a lifetime to play Gleneagles with Scottish European Tour winner Calum Hill.
The series, sponsored by PING is the first ever national multi-tee event open to all golfer types including club and independent golfers.
The six qualifying rounds will take place at some of Scotland's best courses including Murcar Links, Douglas Park, Fraserburgh, Bruntsfield Links, Longniddry and Western Gailes with the top gross and four best net qualifying for the Grand Final at Trump International Golf Links, Aberdeen in August.
Fraser Munro, Head of Events at Scottish Golf said: It's been hugely positive to see participation numbers increasing across all golfer types over the past few years. The new PING Scottish Open Series will help make our events even more attractive, accessible, and inclusive going forward. It's extremely important our National Championships not only cater for golfers of all ages and abilities but continue to adapt and evolve to support increasing player numbers and the different ways our customers consume their #golf.
The PING Open Series will offer nearly 1,000 golfers the chance to compete across the six qualifiers. The event will allow players the chance to sample some fantastic golf courses and entry for each includes hospitality before and after golf. All finalists will win a round at Trump International, Aberdeen and be treated to an overnight stay at the Village Hotel Aberdeen and gala dinner after the final.
Iain Forsyth Chief Commercial Officer at Scottish Golf added: We are thrilled to be working with PING on this new championship, and we'd like to thank them for their continuing support for new styles of competition. We look forward to welcoming independent golfers to the series.
The new PING Scottish Open Series cements Scottish Golf's commitment to providing quality competitive opportunities to golfers all over the world, no matter how they choose to play. The best and easiest way to enter and find out more information about all Scottish Golf competitions is through the Scottish Golf app.
PING Open Qualifying rounds:
Murcar Links - 29 April 2022
Douglas Park - 4 May 2002
Fraserburgh - 21 May 2022
Bruntsfield Links - 23 June 2022
Longniddry - 1 July 2022
Western Gailes - 28 July 2022
The finals will take place at Trump International Golf Links - 19 August 2022