Women in Golf - Yana Batista Rodriguez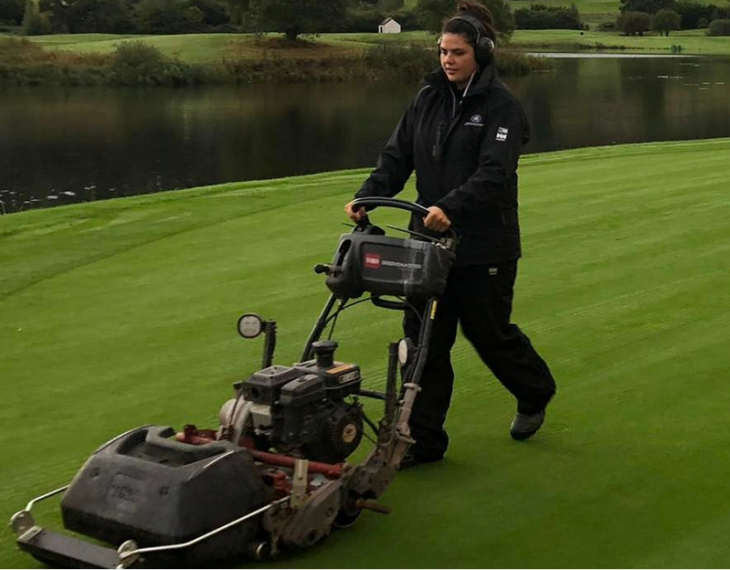 Yana Batista Rodriguez is a greenkeeper at a 9-hole golf course in Belgium. She started greenkeeping at Wase Golf where she was solely responsible for maintenance while studying Golf Course Management at SRUC.

We asked Yana about her role as a Greenkeeper.


Question 1: How long have you been greenkeeping?
''I started my internship in 2018 but in the summer of 2019, I officially became a greenkeeper.''
Question 2: What made you want to become a Greenkeeper?
''I loved being outside from when I was a little girl, helping my daddy in the garden, taking a nice walk, I've always been among the horses, so I knew very quickly that I wanted to do something outside when I was older. When I started at the horticultural school, I started to discover my passion for the maintenance of golf courses, so I started my first internship, and I was immediately sold to the profession.''
Question 3: What is the best part of your job?
''There are 100 reasons why I like my job.
I think it's fantastic to be so close to nature, to see the seasons change, to be surrounded by the birds, deer, insects. I love to see everything change and evolve and to be able to think ahead to the future. Working together with talented people who share the same passion whether it's here in Belgium or on the other side of the world.
Every day we work in the most beautiful environments to give people a great day on the golf course.''
Question 4: Tell us about a defining moment in your career?
''Last year was actually a beautiful highlight all year round. A year in which I have grown enormously as a person and as a greenkeeper. For example, I started the year as Toro Student of the Year, I changed my job to a very nice workplace, and I spent 2 months in Scotland and Wales. Those 2 months were really fantastic experiences in my career that I will never forget.''
Question 5: Do you have any advice for someone trying to become a Greenkeeper?
''This is a tricky one, because I still have so much to learn myself but the advice, I try to follow is just do it, just start and don't think too much and always keep learning. Talk to other greenkeepers, make connections and if you don't know something, never be ashamed to ask someone else. If you don't feel 100% on your golf course, change golf courses but keep challenging yourself.''