The National Golf Club Challenge Begins 2022 Campaign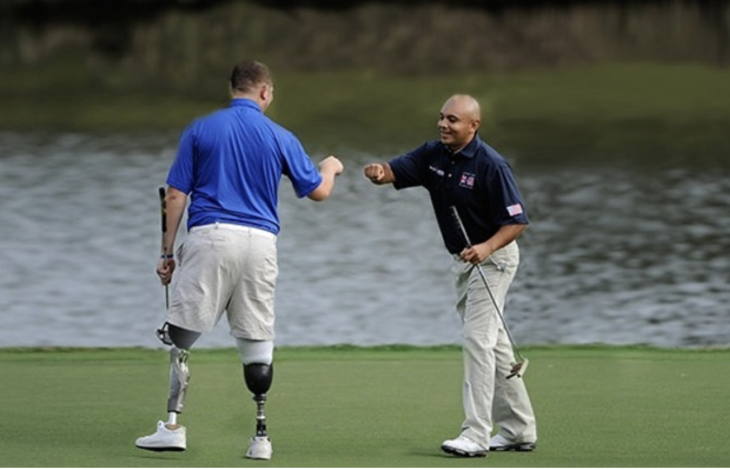 The National Golf Club Challenge (NGCC) is asking all 2,500 golf clubs across the UK and Ireland to donate one mid-week fourball round to the charity's Spring auction.
The NGCC, now in its 13th year is raising money for On Course Foundation, the golfing charity that supports wounded, injured and sick service personnel.
The aim of the National Golf Club Challenge is:
To unite golfers all over the UK to honour and support members of the Armed Forces injured in the line of duty.
To collectively raise as much money as possible to support the excellent work On Course Foundation achieves.
To give golfers of all abilities the opportunity to play in a National Golf Club Competition giving them the opportunity to compete against other golfers from other golf clubs from all over the UK – concluding playing in a National Final where the winning golf club is crowned as the National Golf Club Challenge Champions winning the coveted Lee Westwood Cup.
Stacey Jeffries, founder of NGCC, said: "We've raised over £2.5 million to help our wounded veterans over our 13 years, with fantastic support from a huge number of golf clubs and golf industry friends This year we want to smash our previous efforts by getting every club involved. A small contribution can make such a big difference to our veteran's lives, so I reached out to a number of our well-known supporters to ask for their help. There have been so many golfers, commentators, celebrities, and sporting stars that have recorded short videos for us. I've been overwhelmed by the response."
With support from the likes of Sir Nick Faldo, Lee Westwood, Ian Poulter, Sam Torrance, Wayne Riley among many others, The National Golf Club Challenge hopes to engage every club in the UK and Ireland in their fundraising efforts.
"This is such an easy thing to do for any club. A simple cross through one mid-week tee time can make a massive difference," added Stacey. "Funds raised this year goes towards supporting On Course Foundations 2023 veteran recovery programme, so whether you're a 9-hole municipal, or a major championship venue, adding a four-ball at your course to our auction will help in the recovery of some of the most incredible people you could ever.''
The campaign has kicked off with a video compilation of appeals from some of golf's biggest players and will be followed up with individual video appeals from some of sport's most recognisable names on the NGCC social media channels. (Follow @ngcc on Twitter)
Find out more HERE