Categories
Recent Posts
Popular
Most Popular
CV TIPS – Education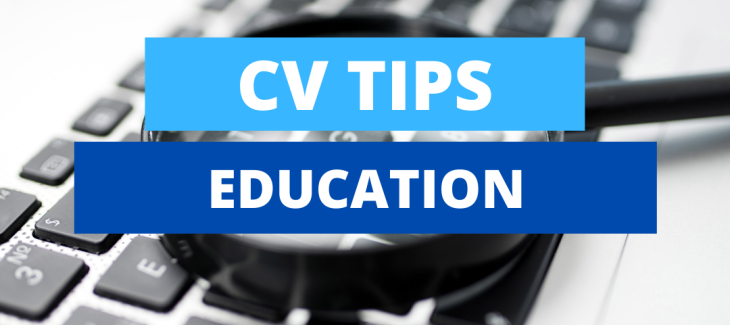 The Education section of your CV includes a summary of your education, studies, and qualifications. It allows employers to evaluate whether you have the right requirements for their vacancy.


Things to include:
Name of your education provider
Location
Dates you attended. (If you are still studying, include your expected completion date)
Your grades/qualifications
Where should my education appear on my CV?
If you have a lot of working, skilled experience then your Work Experience section will take priority and the Education section can come after it.
If you have just left or are currently in education and don't yet have a lot of working experience, then the Education section will be much more important in terms of proving your competence to an employer, so put this above your 'Work Experience' section and elaborate on your course work and studies.
What to include in my education?
If you have a Ph.D., master's degree, or have been in your profession for a long time, you shouldn't worry about including your GCSE or National Qualifications. This information will be irrelevant to employers and take up valuable space in your CV.
Layout:
There is no standard layout when writing your education/qualifications. Make sure you include the correct information and make sure everything is clear and simple to read.
List your education in reverse chronological order (Newest first)
Example:
NC Greenkeeping, (August 2020 – August 2021)
Scotland's Rural College (SRUC), Elmwood
Highers: English(A), Maths(A), Science(A), Physical Education(A), (2014-2016)
ABC High School, Glasgow
7 National Qualifications A-B, including English, maths, and science (2010–2014)
ABC High School, Glasgow