CV TIPS - Work Experience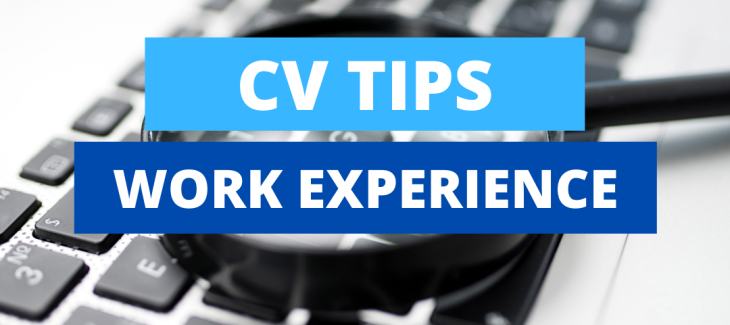 The work experience section of your CV includes information about your work history and contains your job responsibilities, accomplishments, and skills. This section of your CV will help the recruiter decide whether you have the necessary work experience that is required for their role.
Top tips:
Customize your CV for every job application you send.
Keep your work experience up to date.
List your work experience in reverse chronological order (most recent first) and don't go any further than your last 5-6 jobs.
Include full-time and part-time jobs, temporary positions, volunteering, and internships.
Important information to include:
Job title
Job Location
Dates of employment
Responsibilities/Achievements
Layout:
Follow the layout below to keep your work experience section clear, uniform, and simple for recruiters to follow.
PUTTERS GOLF CLUB – Glasgow
Greenkeeper
September 2016 – June 2021
Responsibilities:
Operating and maintaining of heavy machinery and specialist tools
Applying irrigation, treating turf, and controlling and identifying weeds and pests
Repairing wear and tear on the course and removing morning dew and debris
Attending to drainage problems throughout the course
Cutting new holes on greens
Renovating and maintaining bunkers to a high level
Bullet points:
Use bullet points to make your responsibilities stand out and easy to read. Add more bullet points for your more recent and relevant jobs and use fewer bullet points for older jobs. Keep each bullet point brief and to the point.


Wording:
Try starting your responsibilities with action words for added effect. Using strong and confident words can make your responsibilities, achievements, and skills have a greater impact on the employer.
Example action words:
Accomplished
Produced
Executed
Created
Completed
Performed
Undertook
Applied
Accelerated
Boosted
Delivered
Increased
Enhanced
Improved
Optimised
Enhanced