EcoBunker Expands Operations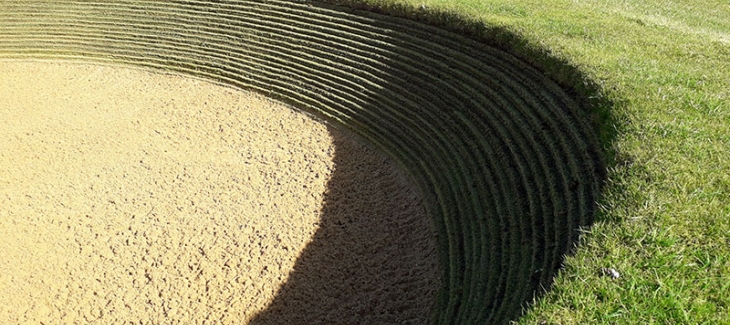 Synthetic bunker edging specialist EcoBunker is expanding its in-house construction capability following an investment in both new equipment and hiring more staff.
The company, which began primarily as a developer of innovative products and provider of bespoke technical solutions aimed at solving bunker and lake maintenance issues, has expanded into the contracting role over several years, as a response to demand from customers.
As well as investing in equipment, plant, vehicles, a larger premises and staff training, EcoBunker Ltd has hired Ben Smith, formerly deputy course manager at Thornbury Golf Centre, near Bristol, enabling it to run at least three projects simultaneously.
"I first came across the EcoBunker solution on the eighteenth hole at St Pierre, where I'm a member. The company were renovating the deep bunkers which flank this famously tough finishing par three", says Smith. "I have been in greenkeeping for quite a while and, when I was on the crew during the construction of the Beaverbrook course in Surrey, and we revetted our bunkers, I found that I really enjoyed that work – more so than day to day greenkeeping, in fact. EcoBunker Ltd has projects around the world, which really appeals to me, as I enjoy travelling – I worked in Sweden for a while. My friends would say that I have never been one to hang around!"
Smith, who joined the company at the beginning of September, is getting his first taste of EcoBunker construction on a brand new inland links style course in London, where the EcoBunker team is being led by construction manager Llewelyn Matthews, the company's original 'bunker builder'.
"Construction was not a central part of the original EcoBunker business plan, though we always had an in-house construction capability, since the very earliest days," says CEO and inventor Richard Allen. "We had a new invention in our hands, plus more on the drawing board, and technical support was essential to demonstrate the full potential of our products.
"Llew Matthews used to go to client sites and provide detailed training on how to build EcoBunkers, and if need arose he would stay around and run the job for the client. But, especially after we completed the Dumbarnie Links build in 2018, we found there was increased demand, not only for project leadership, but also for turnkey construction services – contracting basically – and so Llew's role changed. In the last couple of years, we've been incredibly busy and it was a logical step to expand our team – first by adding Louis Palser as a second project leader and now with Ben joining us as the third, our construction team is going from strength to strength."