Open Water Project Launches at The Women's Open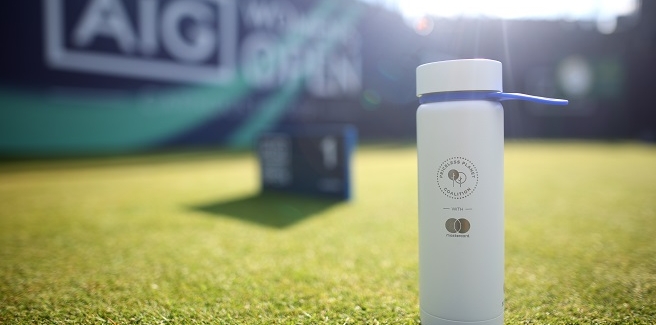 The R&A, Mastercard, and Adidas have come together to launch the Open Water Project at the AIG Women's Open staged at Carnoustie.
Working with Bluewater, free water refilling stations have been installed across the AIG Women's Open with fans encouraged to bring their own refillable water bottles from home.


The Open Water Project is pioneering a new approach to supplying drinking water at major events by using water refilling stations and reusable stainless steel bottles to deliver pure freshwater directly to fans, players, staff, and officials.
The R&A, in collaboration with Mastercard and Adidas, will bring the Water Initiative to the AIG Women's Open as part of its commitment to embedding sustainable practices across R&A championships.
Special edition stainless steel reusable bottles will also be available to purchase at the tournament.

All golfers playing in the AIG Women's Open will be gifted a personalised players' edition stainless steel water bottle with their name laser-engraved on it.



Phil Anderton, Chief Development Officer at The R&A, said: "We are delighted to be launching the Water Initiative at the AIG Women's Open this year. Thanks to our partnership with Adidas and Mastercard and our shared commitment to tackling plastic waste, there will be no single-use plastic water bottles at the Championship.

"The Carnoustie Links, its coastal backdrop, and natural conditions will feature prominently in how the AIG Women's Open unfolds. It is important that we continue to nurture this environment and minimise the footprint the Championship leaves; the Water Initiative is one tool in achieving this goal."



Fans at the AIG Women's Open will also be able to contribute to the global reforestation drive through The R&A and Mastercard's Priceless Planet Coalition which will generate funds to support essential tree-growing projects around the world and raise awareness of the impact of deforestation and climate change.
Whilst water refills are free at the Championship, all Bluewater refilling stations will be equipped with contactless modules for fans to make voluntary donations from the sale of each commemorative water bottle, being directed to the Priceless Planet Coalition.
"Through the Open Water Initiative and Priceless Planet Coalition, we continue to advance our environmental sustainability commitments and collectively address climate change, helping people make sustainable choices and contribute to our restoration target of 100 million trees by 2025," said Kristina Kloberdanz, Chief Sustainability Officer, Mastercard.
In addition to the Open Water Project, Adidas's partnership with the AIG Women's Open extends to the championship's official uniform. Continuing its commitment to help END PLASTIC WASTE and bring more sustainable products to golfers everywhere, Adidas are providing all staff and marshals at the AIG Women's Open with PRIMEGREEN product, made with recycled materials, as part of their kit.
Jeff Lienhart, President, Adidas Golf, said: "We're on a mission to help END PLASTIC WASTE as a brand, so partnering with The R&A on this initiative was something very important to us. Plastic waste is a problem that affects all of us, so our hope is that by being an example in golf we can in a small way help accelerate our journey to a more sustainable world."