A Charity Golf Day VIP Offer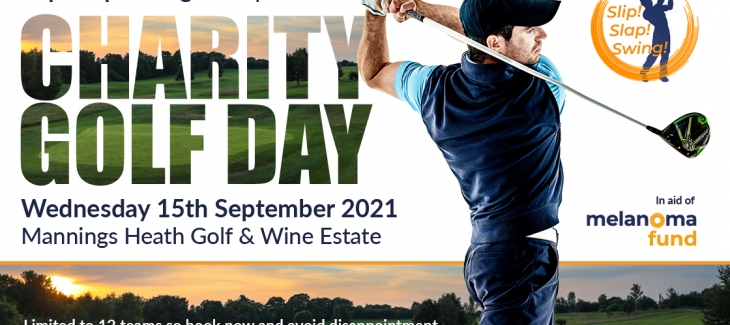 The Melanoma Fund, the charity behind the Slip! Slap! Swing! campaign is hosting its very first golf day on September 15th at Mannings Heath Golf & Wine Estate in Horsham. With many looking for a great UK-based day out, tickets are bound to be snapped up, however, we are offering our readers something special!
Golf Jobs has teamed up with the charity to treat each player of three teams a VIP goodie bag, featuring a year's supply of Altruist sunscreen and a selection of luxury skincare treats from Temple Spa.

A day to remember
Slip! Slap! Swing! in September will be staged on the club's 500-acre championship Waterfall course. The day, which includes a two-course meal, sparkling wine reception, a professional skin check, and a host of exciting golf activities. The day will help raise awareness and vital donations for the charity, as well as offer a fabulous day of golf, an evening of entertainment, providing priceless memories, and lots more, all for £120 per player.
Entertainment
Jeremy Dale is the UK's most innovative trick shot artist and will be on hand to showcase his award-winning golf show. As a completely ambidextrous golfer, he can hit both left and right-handed, so good in fact, he was runner up at the World Golf Trick-Shot Championships.
Paul Way represented Europe in the Ryder Cup in 1983 and became the second-youngest Ryder Cup player, aged just 19. He had success again in 1985 when Europe captured the trophy which had been in American hands for twenty-eight years. Paul will bring his coveted Ryder Cup to the event, offering unique insight and some exclusive anecdotes on what it took to be a part of extraordinary golfing history.
The cause
The Melanoma Fund focuses on delivering three national prevention campaigns, targeting those at the highest risk, with Slip! Slap! Swing! their campaign for all in golf. With skin cancer the world's most common cancer by far, and melanoma rates rising rapidly, it is important that more awareness is raised, and especially to golfers, who are at high risk due to when, how, and where they play.
Skin checks
We all need to ensure that our skin is regularly checked, to keep on top of any potential problems, ensuring an early diagnosis of any type of skin cancer. On the day, all players can exclusively pre-book a 10-minute skin check consultation with renowned Consultant Dermatologist, Dr. Jan Von Der Worth, as well as a chat about sun protection, and how to keep your skin healthy for the future with Michelle Baker, CEO of the Melanoma Fund.
Golf Jobs involvement
As an official partner of Slip! Slap! Swing! and a 'Sun Protection Accredited' organization, Golf Jobs is delighted to support this great cause, as well as offer our readers a great opportunity. To win the goodies:
Email us at charitygolfday@golf-jobs.com confirming your intention to sign up.
We will email you back with the booking details.
Sign and provide your address and you'll receive the goodies!
For further information regarding Slip! Slap! Swing! in September, click HERE. This offer is open to all on a first come first served basis, so get your skates on…!