Gleneagles Partner with John Deere for a Fifth Year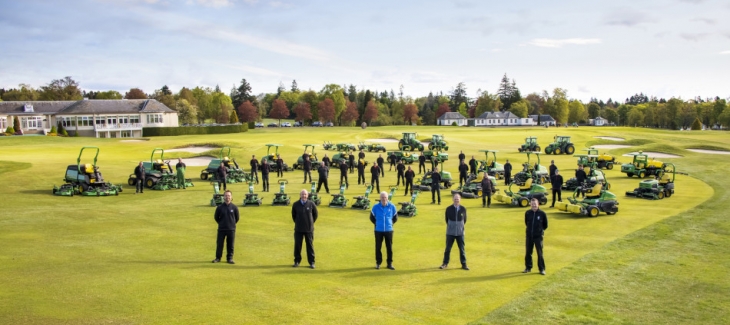 Gleneagles adoption of the latest precision spraying and mowing technology is paying off across their legendary courses, The King's, Queen's, and PGA Centenary, plus the 9-hole Wee Course.
The luxury destination located in Perthshire was the first European venue to have hosted both the Ryder Cup (2014) and Solheim Cup (2019). John Deere was the official golf course and turf maintenance equipment supplier to Gleneagles for the latter event.
Scott Fenwick, Gleneagles' Director of Agronomy and Estates recently took delivery of the latest additions to Gleneagles' extensive John Deere course maintenance equipment fleet, including the ProGator-based GPS PrecisionSprayer, WAM 1600T and 9009A TerrainCut rotary rough and finishing mowers, plus nine TS & TX Series Gator utility vehicles.
"We were the first UK golf course to receive a prototype of the GPS PrecisionSprayer for assessment, from the start of the John Deere contract," said Fenwick. "We were able to do a lot of testing with it over three seasons, to help John Deere evaluate the machine in true commercial conditions."
Scott added: "Accuracy is key for everything we do at Gleneagles. We were also one of the first golf venues in the UK to achieve GEO Certified status, and the environmental credentials of our business are very important to us. To be able to spray only target areas is obviously much better from an environmental point of view. We are now able to apply around 12 to 14 per cent less chemical at lower total volumes of water, which also means lower costs, so it's a big win all round.
"Although autonomous technology is well established in agriculture, it's new to our side of the industry. Once you get used to not having to steer the machine and allowing it to do everything automatically, it's very operator friendly. Testing the sprayer over an extended period meant we could be sure that it did what it was supposed to do and have full confidence in the results."
Precision is a feature of the A model mowers with the machines set up using the TechControl system so that they mow and turn at exact speeds. This helps give a consistent finish across all courses.
"This is particularly important on a big site like ours, with a 50-plus strong greenkeeping and gardens team and a lot of equipment," Fenwick added. "Every operator has a slightly different approach and feel, but with so many mowers being used by different people every day, we need to achieve consistency.
"Since joining Gleneagles three years ago our Golf Courses Manager, Craig Haldane, has been instrumental in bringing the golf and gardens staff together to operate as one team across all the courses and grounds. This has meant we can manage and direct operations and the equipment fleet much more efficiently, and it has also improved communications and the use of resources.
"Overall, the new John Deere fleet is now in a really good place. It's also been great for morale that even though the hotel had to close during lockdown, the business has continued to invest in the new machinery we need to maintain the courses to the highest standards."
Gleneagles will host The Senior Open for the first time in July 2022. Staged on The King's Course, the tournament will be Europe's only Senior Major Championship next year.
Scott Fenwick said: "We're anticipating a great tournament next summer, particularly as The King's Course also hosted what was then the Bells Scottish Open from 1987 to 1994. Hopefully a lot of the big-name golfers from that era will be able to play the course again, and we look forward to welcoming them back to Gleneagles."