Women and Girls Golf Week Announced for 2021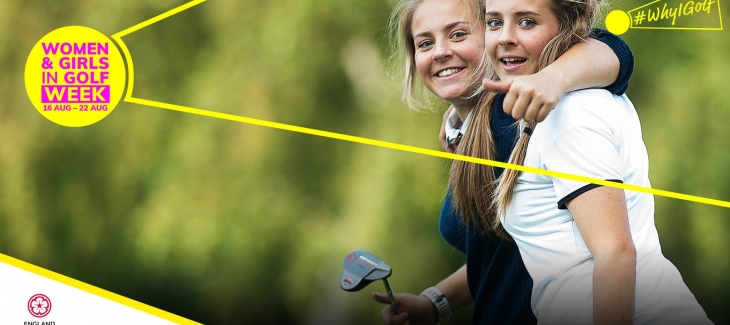 Women and Girls Golf Week is back!
The inspiring awareness week aims to encourage more women and girls to take up golf. The online campaign will be celebrated from the 16th – 22nd August and will coincide with the AIG Women's Open at Carnoustie Golf Links in Scotland.
England Golf, the governing body for the amateur game, is the driving force behind the initiative which is now in its fourth year.
England Golf announced industry support from adidas, BIGGA, Black British Golfers, Department of Digital, Culture, Media and Sport, EDGA, GCMA, Girls in Golf Society, Golf Foundation, Muslim Golf Association, the PGA, Slingsby Golf Academy, Sport and Recreation Alliance, Titleist and Wales Golf.


Lauren Spray, the women and girls in golf manager at England Golf, said: "Every year we look to build on the previous campaign and ensure that the amazing stories involving women and girls in golf are given the exposure they deserve.''
"I'm always a firm believer in the phrase if you can't see it, you can't be it.''
"It's also been great to have so many positive contributions from men in the game who recognise that golf is a sport for everyone regardless of age, gender, ethnicity or ability.''
Each day of Women and Girls' Golf Week will have a specific theme.

Monday – Careers: Introducing inspiring women who are blazing a trail in the golf industry.
Tuesday – Volunteering: A chance for everyone to shout about those unsung volunteers who are key to the game's success.
Wednesday – Health and wellbeing: Engaging conversations with women who have found golf to be a transformative experience for mental and/or physical health reasons.
Thursday – Competing: A chance to hear from those who love the buzz of competition.
Friday – Role models: Taking a leaf from the many women who inspire by their actions not only at the top of the game, but also at grassroots level.
Saturday – Newbies: Focusing on those who are new to the game – and who now couldn't live without it.
Sunday – Join the club: A rallying call for those on the outside to come and join the golfing party!


Toni Zverblis, campaign and development manager at England Golf, said: "Last year's campaign proved to be a huge online success – promoting the women's game and increasing awareness about opportunities in a game that is adapting to the modern world and changing lifestyles.''
"Videos from the week racked up 285,000 views while Instagram stories were seen 100,000 times.
"Over 500 people from around the world shared their stories and experiences and #WhyIGolf was trending for the week."
Golfers are being invited to join this year's conversation using the #WhyIGolf
Visit: www.englandgolf.org/WhyIGolf for full details on how to get involved and watch this year's promotional video.