Cube Partnership is the Official Supplier of the Solheim Cup 2023.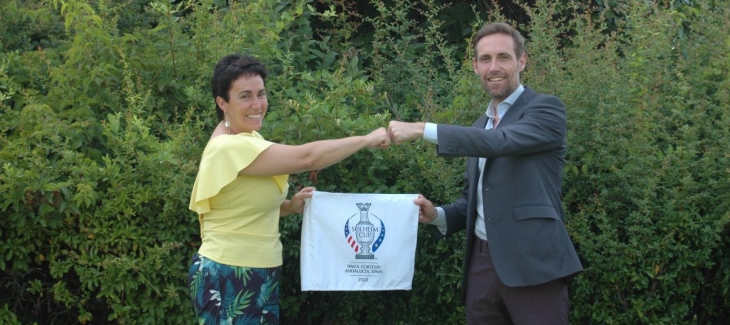 Cube Partnership is part of Cube International, a group of companies renowned for bringing innovative concepts to the international sports, events, sales, e-commerce, and modular construction sectors, and has a remarkable reputation in the industry of sport by maximizing revenue by offering fans the best products and experiences and reinforcing its partners' brands.
The Golf Jobs team provided help and support to Cube Partnership in finding and recruiting their new business director, Javier Espejo (pictured above). Madrid based Javier will now lead Cube Partnership in being the official supplier for the 2023 Solheim Cup. The biennial professional women's golf event will be held on Spanish soil for the first time at Finca Cortesín from the 18th to 24th September 2023. Cube Partnership has been chosen by the promoters of the Solheim Cup 2023 as a sales and electronic commerce partner for its commitment to innovation, collaboration, and the extensive experience of this company in prestigious events with global brands.
"We are delighted to have reached an agreement with another prestigious global sporting event. The Solheim Cup is one of the most esteemed international sports brands and the pinnacle of women's golf. This association is another example of the dream that guides us, that is, to offer unique, innovative sales experiences and in close collaboration with our partners, in addition to affirming our commitment to women's sport. We look forward to bringing the talent and ability of the Cube Partnership team to tell the story of the Solheim Cup 2023 and offer the best products and unique experiences to fans in Spain and around the world," says Andy Bough, Cube's commercial director International.
"The invaluable experience of the Cube Partnership will guide us and deliver the best products to customers and Solheim Cup fans around the world. We are looking forward to seeing what this association brings to the Solheim Cup 2023, since e-commerce and sales are key in international events of the highest level such as the one that will be held at Finca Cortesín, a turning point for women's sport that will leave an indelible mark in the history of Spain. Cube Partnership and the products they design, and license will help everyone who participate in this event to enjoy it to the fullest,'' explains Alicia Garrido, Executive Director of Deporte & Business.
Golf Jobs would like to congratulate Javier on his new appointment as Business Director at Cube Partnership. We wish Javier the best of luck in this exciting new chapter of his career.
More information about Cube is available here:
Cube Partnership: www.cubepartnership.co.uk
Cube International: www.cubeinternational.co.uk