Porsche Renews Sponsorship of the European Open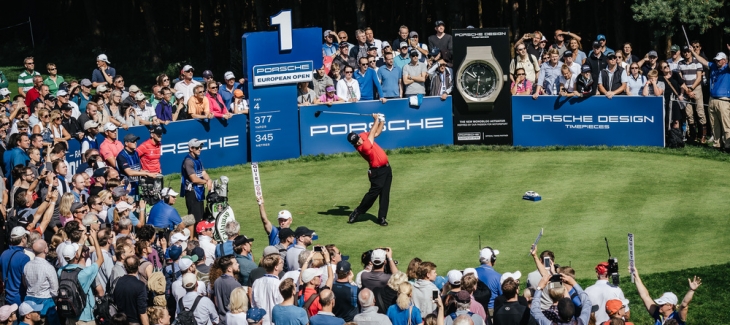 The car manufacturer, Porsche AG has committed to another three years of sponsorship for the European Open.
On the 21st of June, 2021, golfers will tee off beside a Porsche banner once again. This will be the sixth iteration of the Porsche European Open to be played at the Grean Eagle Golf Course in Hamburg. Detlev von Platen, a Member of the Board of Management for Sales and Marketing at Porsche AG, was proud to announce the company's support for the competition. "The Porsche European Open stands for top-class sport at the highest level and for thrilling experiences - and for the fans and the participating world-class golfers alike.
"We want to continue offering this outstanding sporting event to golf enthusiasts in the future. Hamburg is ideal for this: the Hanseatic city has a long tradition in golf and is home to many fans of the Porsche brand. "
Maintaining its commitment to the Humburg-based tournament, Porsche has joined forces with U.COM Event, an events firm dedicating itself to organising sporting events globally. The CEO of U.COM Event, Dirk Glittenberg was more than content with the collaboration. "The Porsche European Tour is something that is dear to our heart."
For many years, Porsche has been a strong advocate for golf. The company has supported the 'Golf Good' initiative, linked to the European Tour. It has been involved with the Porsche Golf Cup for three decades.
The company's work with the 'Golf for Good' initiative has deeply altruistic aims, beyond golf itself. The scheme was developed this year, to support communities where the European Tour is played. The scheme recognises heroes of the COVID-19 pandemic and promotes the health benefits that the game of golf has to offer.
It would seem that the pandemic has not lessened Porsche's willingness to support Golf. The company has already locked in its first big hitter for the Porsche European Open. A strong ambassador for the car manufacturer, and 2019 winner of the competition, Paul Casey was quick to sign up for 2021. He had this to say: "It was an unbelievable feeling to win this very special tournament for me."
"My heroes are all immortalized on this Porsche European Open trophy. It was one of the best experiences with great fans. So, I'm all the more happy to be able to take part in this important tournament in 2021."