IGF Swap Long-Standing President for Sorenstam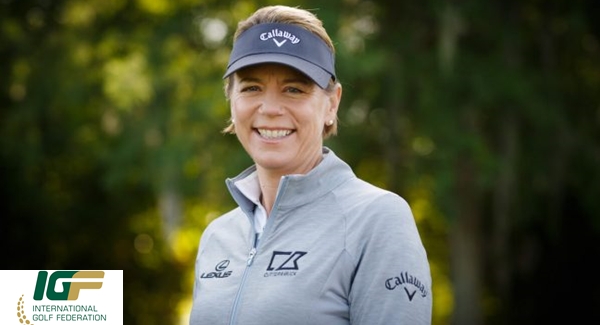 The International Golf Federation Board have come together this week to discuss their plans for the Tokyo Olympics, and to replace its sitting president.
During a virtual meeting on Wednesday to discuss the impact of Covid 19 on the impending Tokyo Games, the International Olympic Committee President, Thomas Bach pledged that competition would proceed. Bach's words were well received by the board, as he thanked sitting IGF president, Peter Dawson for a 10 year-long tenure at the helm. Having made it clear that he did not wish to seek re-election after his two-year term had expired, the board moved to elect Annika Sorenstam.
From January 1, 2021, Annika Sorenstam will be president of the IGF.
Dawson has given no clear indication as to why he has decided to step down at this time. That said, if Dawson's self-ascribed purpose was to take golf to the Olympics, he may feel able to make way for a new purpose, or person. Dawson could not have been more gracious in handing over the mantle.
"It has been a great pleasure and privilege to serve as IGF President," Dawson said. "Golf's reinstatement to the Olympic programme was a landmark for our sport and it was a true thrill to witness our return at Rio 2016. Our Olympic status has been a strong catalyst for increasing cooperation and coordination between the major organisations in golf and has significantly strengthened the bonds between the IGF and our National Federations.
"My thanks go to so many people in golf and in the Olympic family for their support over the past 10 years… Their help and goodwill have been invaluable. I wish my successor, Annika Sorenstam, every success. The IGF could not be in better hands."
The Board Chairman, Jay Monahan had this to say about Dawson: "On behalf of the IGF Board, I want to extend our sincere gratitude to Peter for the outstanding job he has done over the past decade on behalf of the IGF, including helping to assure golf's highly successful return to the Olympic Games… Peter has had a distinguished career dedicated to the growth of golf and the IGF has been fortunate to have him as such a strong advocate.
"With Peter's impending departure, we are thrilled to have someone as accomplished and universally respected as Annika Sorenstam to move into the role as IGF President. As a generational talent in women's golf, Annika played a prominent role in golf's successful Olympic bid by serving as a Global Ambassador with Jack Nicklaus and since retiring from competition, has been dedicated to promoting women's golf at all levels through her foundation. She is the ideal person to succeed Peter in this role."
"Peter did a great job the last 10 years as IGF President and I am humbled and honoured to have been asked to succeed him," Sorenstam said. "As an international player, having golf back in the Olympics means so much to me and to our sport. I very much look forward to working with the Board, the IOC and the governing bodies of golf in their efforts to continue to grow the game globally."