John Deere deal with the LPGA and the LET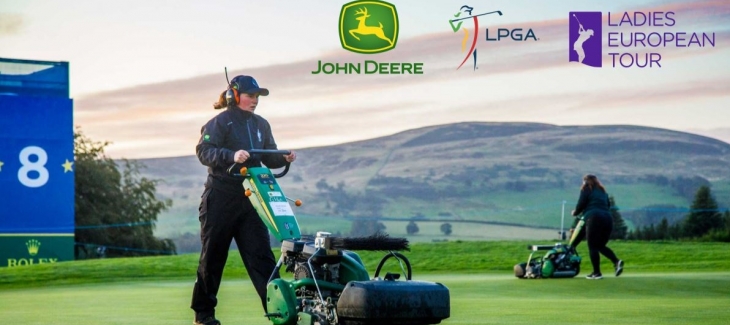 The Ladies Professional Golf Association (LPGA) is to join forces with John Deere and the Ladies European Tour (LET) will extend their partnership. The LPGA has announced a three-year marketing deal whilst the LET have announced a three-year extension to its ­pre-existing partnership with the company, placing John Deere at the front of the herd when it comes to marketing the women's game.
Already one of the largest suppliers of agricultural and forestry equipment to the LET, John Deere is set to become the LPGA Tour's new Official Supplier of course equipment. It seeks to support the LPGA Foundation in drawing more women to the game of golf.
Emma Allerton, LET Commercial Director, added, "We too are delighted to be extending our successful partnership with John Deere, continuing to work together towards shared goals and enhancing opportunities across women's golf."
"We're excited to welcome John Deere into the LPGA family as our Official Golf Course Equipment Supplier," said Kelly Hyne, Chief Sales Officer for the LPGA. "We look forward to building upon John Deere's strong history with the LET."
Dedicated to building bridges across the women's game, the company has guaranteed the supply of equipment for the Solheim Cup in Ohio. This has been an ongoing deal designed to provide the women's game with perfect playing conditions across two tours.
Manny Gan, Director Global Golf Sales & Marketing for John Deere, had this to say: "Through this agreement with the LPGA and the extended agreement with the LET, John Deere equipment will play a key role in providing a great playing experience at top courses around the world, and at the 2021 Solheim Cup."
Adding to Deere's credentials on driving forward the women's game, the company have pledged support for the LGPA's Renee Powell Grant. Established in 2020, the grant was designed to provide needs-based grants to girls golf programs.
Manny Gan stated he was, "incredibly proud to become the Official Golf Course Equipment Supplier to the LPGA" Female golfers may feel a sense of pride in the deal too.