Categories
Recent Posts
Popular
Most Popular
5 Golfers Who Use To Have 'Real Jobs'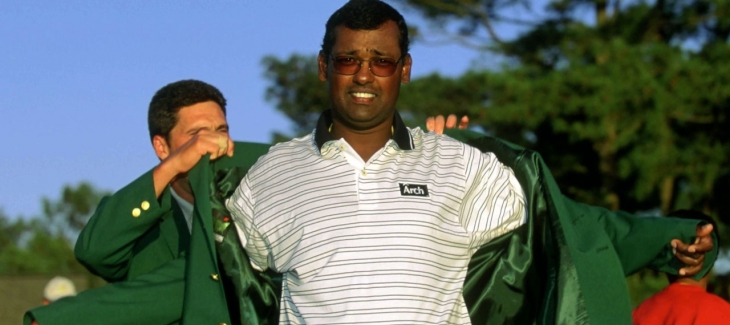 It often seems many professional golfers these days knew they were going to make it as a professional since birth. The likes of Rory Mcilroy, Rickie Fowler, Jordan Spieth, and many others were making millions of dollars even as teenagers or certainly in their early twenties. Some golfers weren't so lucky however. Here are 5 golfers who worked 'real jobs' before making it on tour.

1. Vijay Singh - Night Club Bouncer
Before 'The Big Fijian' made it on tour he worked part-time as a bouncer at a nightclub in Edinburgh. He described the experience as "An interesting insight into Scottish culture." Although he didn't work as a bouncer for long it's clear Vijay didn't find the job particularly enjoyable. Notably, he found the Scottish women hardest to handle "I knew how to deal with the men, but the women… you never knew what they were going to do. They were pretty rough, especially with a few drinks inside them!"
2. Rich Beem - Telephone Sales Person
'Beemer' is best known for his 2002 victory at the PGA Championship and as an analyst on Sky Sports Golf. However, before this, he was a salesman in a phone shop and a very good one apparently. Beem regularly tells this story about his time in phone sales: "This guy comes in and he's going to get what they called a penny phone…and he starts asking some questions. He asked if I was going to buy a phone for my girlfriend or wife what would I go for? So I said 'no doubt about it, I'd pick out this one.' It was an $800 phone. He goes 'wow, that is a cool phone'. He came in for a free phone and he bought the $800 one."
3. Ian Poulter - Assistant Club Professional
Ian Poulter has had a more than a stellar professional golfing career. Two World Golf Championships, multiple top 10 major finishes, and close to $50 million in earnings across both the European and PGA Tour. Before all of this, he worked as the assistant professional and golf shop manager at Chesfield Downs Golf Club for a number of years. Most of the members at Chesfield did not particularly rate him as a golfer and some even thought he was delusional thinking he would make it as a professional! John Metzger, who was club captain at the time Poulter was working at the club, called him a "very good club player but not an outstanding one." Keith Bond, who was the head pro at the time stated "He just wasn't a standout player… He told everyone that he was going to win European Tour events. Everyone thought well, he doesn't know what he's talking about." I think it's fair to say Poulter has proved all of his doubters wrong and then some.
4. Boo Weekly - Hydro Blaster
Before researching this blog post I had no idea what the job of a hydro blaster entailed. Having found out what it entails I can honestly say it comes pretty close to the bottom of the list of jobs I wouldn't want to do. A hydro blaster is essentially someone who is lowered into ammonia tanks in order to clean them with a high strength water hose. This was all done in heats of up to 50 degrees celsius in very heavy protective gear. It was tough work, according to Boo, but he made $5000 in a very short space of time and used this money to turn pro and has won three times since. I can't imagine he looks back on his time in the chemical tanks very fondly!
5. Fred Funk - College Golf Coach
From 1989 to 2007 Fred Funk was a regular winner on the PGA tour and across the world. His last win came at the Mayaboka Classic at the age of 50! He had also previously won the Players Championship in 2005. However, Funk's career didn't start until much later than in his life than you might have imagined. Funk only hit it big in the world of professional golf at the age of 32 and for six years prior he had been coaching at the University of Maryland which he had also attended on a scholarship as a student.
That concludes our list of 5 players who once had real jobs. The list could go on much longer with many other successful players starting out at real jobs before finding success as a professional golfer. Fred Funk was 32 when he finally made it to the PGA tour proving it is possible to make it as a golfer even later in life. Could it be time for you to give up the day job and chase the dream of making it pro?