Categories
Recent Posts
Popular
Most Popular
Women in Golf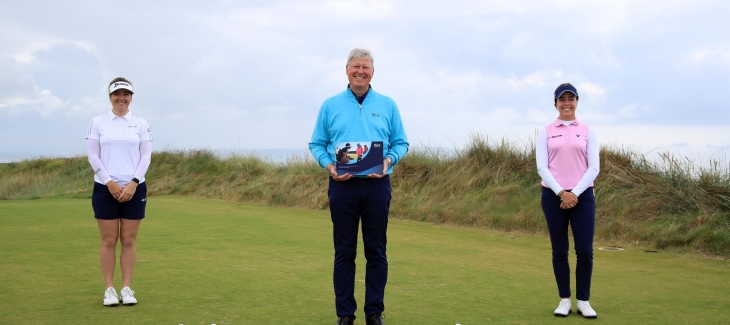 Golf has stereotypically been a sport which has historically been dominated by males. However, this is very much a moving feast. When we think of inspirational and renowned figures in golf we tend to instantly think of Tiger Woods, Arnold Palmer, Rory McIlroy, to name but a few. However, the modern game is moving towards altering people's outlook on golf - especially the role that females have within the sport. If we take a step back to consider the various female names who influence the game, from Annika Sörenstam who ranks within the top female golfers for the most LPGA Tour Wins, to Solheim Cup Captain Catriona Matthews who led team Europe to an exhilarating victory at Gleneagles in 2019. Suzanne Petterson, who provided fans of the sport across the world with the electrifying moment of holing the winning putt to clinch victory against the Americans. Out-with, the famous players and captains, there are other female figures who stand out too.
Iona Stephen is a Scottish golfer who is not only a previous professional tour player, but who has now become a presenter/commentator and host for Sky Sports Golf and Golfing World. Not only does Iona provide an exciting approach and presence to the game on television via hosting and presenting, but she also uses her following on social media to raise awareness and grow the game. Someone like Iona proves that golf is not just a sport that success stops at having a playing career, but in actual fact there are endless opportunities within the sport, especially for enthusiastic females.

However, despite the many inspirational female figures mentioned above, those involved, recognise that more has to be done to continuously encourage more females to play golf. As a result, The R&A has launched an initiative called 'Women in Golf Charter'. As you would expect, the Women's Charter has been designed and launched in an attempt to fix and improve the existing gender gap within the game. The charter looks to see how we can hold golf clubs and golfing organisations accountable for playing their part in growing the game of golf for females. Not only to encourage growth in numbers but also to allow females to recognise where golf could take them in life and the endless possibilities that can be created. What makes this different to the various other initiatives that have been tried and tested over the years you might ask? Quite simply the Charter aims to provide each signatory with a toolkit to take action towards achieving this goal. In return, each signatory will benefit from their commitment - the Charter will be seen as a badge of honour and support for women in golf which generates positive publicity and more involvement within their club. This results in an increase in members and in revenue, not only through membership but the club as a whole, as well as most importantly providing a long lasting legacy for years to come for women in golf.
So far the Women In Golf Charter has been successful in signing up over 200 different clubs and organisations all over the world - big names include the European Tour, all of the golfing governing bodies in the UK, Mastercard, Visit Scotland and many more. The toolkit provides support in many ways, for example, via branding, materials to organise and support their club, a framework and route-map to work from in order to make a real difference. However, the Charter recognises that each club is unique and will not look to achieve this aim in the same way. As such, the Charter provides a tailor-made approach, offering examples of specific aims that clubs might look to achieve that will help contribute towards the wider issue. Such examples include: being a club that provides male and female competitions to be staged on the same day, increasing female representation on the club committee or even a club that aims to provide access to female toilet facilities on the golf course as a means of signifying their commitment to the cause. In their own individual way, each club can help make a difference.
How would we organise this? Well, some signatories can even look to have what is called a designated 'charter champion' - who is the individual that is responsible for implementing a club's specific Women In Golf Charter Commitments. The entire programme looks to represent a united and inclusive approach to golf. The responsibility doesn't end with ambassadors such as golfing role model Georgia Hall … it starts with you. Your club needs you! Visit www.golf-jobs.com to uncover how you could find your next opportunity within the game… equal opportunities are endless amongst our vacancies ranging from club professionals, general managers to greenkeepers. Let GolfJobs do the hard work for advertising your next vacancy and you won't miss out on gaining the best talent within the golfing industry - that's males and females alike. Your Club Needs You! #FOREeveryone