To Play or Not to Play? England's Golfing Lockdown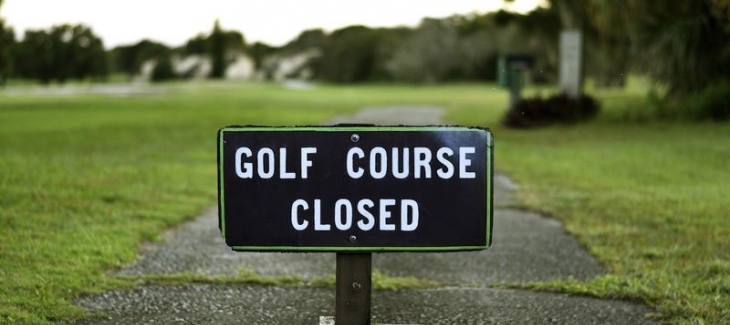 Every day since March has been the equivalent to an average club golfer's handicap graph - up and down, steady, back up again, then down. Just when you think you have your driving under control, your short game slips up and vice versa. The Covid-19 global pandemic has been a true rollercoaster of emotions for individuals, families and friends, businesses, workplaces, hospitals, care homes, and so on. Boris Johnson's announcement of another four-week circuit breaker lockdown has made for a Halloween that the people of the UK will not forget.
Understandably there are areas of the community that it is beyond necessary to lockdown in order to make a difference, however, there are some industries within the UK that feel they do not fall under this bracket. Namely, golf. New restrictions for the next month have resulted in golf clubs/courses and driving ranges having to close as they are non-essential. Within a short space of time, an online petition supporting golf courses to remain open has been overwhelmed with more than 10,000 signatures. Coupled with the online petition, a signed letter has been composed by the most senior people within British golf and sent to No.10. Many struggle to understand why golf cannot remain operational during this period, especially when the sport was regarded as one of the safest due to its' outdoor location and natural ability to be socially distanced - ticking all of the boxes for a 'COVID friendly' sport.
The voluminous response of signatures, as well as the Parliamentary letter supported by key names such as the chief executive of the PGA, the CEO of PING and the Executive Director of the R&A, to name a few - highlights firstly the popularity of golf, and secondly the importance the sport has for people's physical and mental health, via recreation and livelihoods. Golf encompasses a variety of age groups and backgrounds and offers a sense of belonging for those attached to a club, friendship, competition, and outdoor physical exercise. World leaders now stand at a crossroads, to balance people's mental health and their physical health too.
As many people around the country have already lost their jobs, face redundancy, the golfing industry is not an industry that should be included within this issue as it has proved to successfully carry out safely. It is not just the impact the closure of golf clubs has on those that play the game, but also the domino effect this has on the various job categories within golf. For example, bar and catering to club professionals, greenkeepers, club-fitters, cleaning staff, sales assistants, and so on. It can be argued that golf has been one of the safer industries in terms of employment during this coronavirus pandemic considering that it was one of the first sports to re-open many weeks before the hospitality and non-essentials shops were allowed. As a result, golf has seen a rapid increase in those taking up the game, those purchasing club memberships, as well as the quantity of money spent on equipment. A very healthy and prosperous industry to be a part of.
At Golf Jobs our volume and quality of current vacancies support the key points made above and evidently signifies the importance of the golf industry to the economy. Current vacancies are situated across the world from the US to the UK and vary from General Managers to Greenkeepers and digital marketing assistants. There has never been a better time to join such a buoyant industry - make sure golf is a part of your next career move. For more information about how you could find your next career within golf, contact the golf recruitment experts at Golf Jobs for more information, or likewise to discover how your organisation can attract the best talent to support their golf club or business.

We believe in COVID-19 safety and job safety - support our golfing industry.